Thank you for visiting Alliance Carpet & Upholstery Cleaning's website. We offer a professional carpet and upholstery cleaning service in and around Tyne & Wear and County Durham. We are fully insured for every item we work on in your home, highly trained and DBS certified for our customers peace of mind.
If you would like a simple, no obligation quote don't hesitate to call or email myself,
owner/operator
James Oxberry.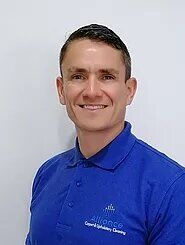 Carpets, Sofas and other fabrics are a substantial investment for every household. When they begin to gather dirt or look tired it has been the norm to replace with yet another expensive item of furniture or roll of carpet. Please, before you consider this contact us here at Alliance. One phone call could save you quite a large sum of your hard-earned money. Our work is backed by a 100% satisfaction guarantee, we are that confident in our abilities.
Professional Carpet Cleaners Tyne & Wear
How to choose a reputable carpet cleaning company.
Choosing a company that you are going to trust with your carpet should be very easy. Professional carpet cleaning companies have professional equipment for their work. With professional equipment, they can easily clean any carpet, varying from nylon carpets to fluffy carpets. Equipment that clean tough stains are faster, leaving your carpet as good as new.
Look at their professional expertise while looking for the best carpet cleaning companies near you. Consider the years of experience that the company has had in the cleaning business. Carpet cleaning Tyne & Wear has a wide range of customised cleaning items. They vacuum clean carpets, remove stains on the carpets, spray clean and carpet repairs for curtains that need to be dyed.
Look if the professional carpet cleaners have a good review from residential and commercial clients who loved their work before. Being approved by residential and commercial clients means they can work best anywhere, so they are a reputable professional cleaning company. The carpet cleaning company should have a license that allows them to work in a specific area.
Check if the company has a physical office where you can take your complaints if you did not like their services. The best carpet cleaning company should have a team of professionally trained and experienced cleaners who know how to clean, the skills to clean and the required techniques involved in cleaning. Find out if the carpet cleaning company offers affordable and understandable prizes for the cleaning services
FREE Bottle of Stain Remover
Nothing To Pay Until You Are Completely Satisfied With Our Work!
Contact Us Now For Your Instant No Obligation Quote
How to choose a reputable upholstery cleaning company?
Do you need upholstery cleaning Tyne & Wear? When preparing furniture cleaning, it is critical to call the right upholstery cleaning company for excellent services and results. It may not be easy to choose one of the best upholstery cleaning firms that can provide the services they promise to provide. That is why you should be aware of the tips that will assist you in selecting the right upholstery cleaning business.
The expertise
A specialist in the field will not have other interests; they will devote their all to their career, dedicating their entire life to it. It would be best if you were confident that you could get professional upholstery cleaning from someone with several years of experience. A strong upholstery firm would also have trained technicians with years of experience. Of course, experience is important, and you should consider that when selecting your upholstery. Often make an effort to choose an upholstery provider that provides high-quality services.
The price
You should, of course, consider finding the highest deal for your money while having the latest economic cycle in mind. Tyne & Wear has a variety of upholstery cleaning firms that charge varying rates for their services.
The price gap may be due to the reputation, cleaning appliances, and, of course, the upholstery you choose to clean. When employing a professional upholstery firm, you may want to choose premium services to avoid compromising the quality of your services.
The reputation
Before hiring someone to clean the upholstery, it's important to look at the company's credibility. Ask for testimonials from Tyne & Wear residents— not only do you want to ensure they do a decent job, but you also want to
see how good their customer service is. Reading the testimonials is a good thing because many users today share their thoughts on the company's website after receiving a service from a supplier.
Preeminence
A respectable and well-known upholstery cleaning Tyne & Wear company is responsible for delivering professional and specialist cleaning services.
They are mostly concerned with preserving their company's existing name. As a result, the company can do everything possible to provide high- quality upholstery cleaning services. Choosing a cleaning business based on reputation and good feedback ensures a decent cleaning result.
Cracking job by James, managed to get all the stains out the carpet, will highly recommend him
Shaun McCaffery
Fantastic service from start to finish!! Great results, James is so so thorough!!! Will be using again, would 100% recommend
Rebecca Patterson
I Had my sofas and stairs carpet cleaned today. Excellent service and great value. Very professional and I will definitely use again. Thanks James
Dominic Clark
Absolutely amazing job completed today of our living room and stairs. Our carpets look brand new. Amazing service, a lovely lad and prices great too! Thank you James x
Julie Reid
Had my carpets cleaned today and they look brand new! Couldn't be happier, such an excellent service
Helen Marie